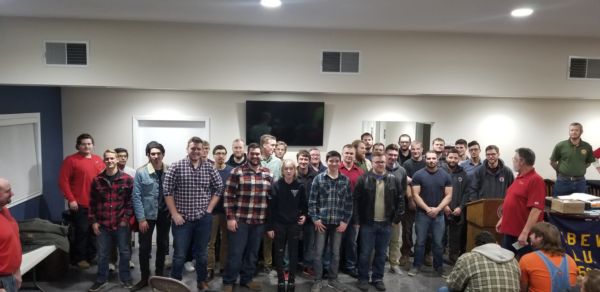 Congratulations to our newest Apprentices!!
Application for Electrical Apprenticeship will be available:
Monday - Friday 8:00 a.m. - 4:00 p.m. (excludes lunch hour 12 - 1))
or
Items you need to bring with you to fill out application:
Application fee $30 Cash
VALID Drivers license and Birth Certificate
Official Transcript (in a sealed envelope from the school) Algebra 1- C or above passing grade
Applicants with Military Service may provide a copy of their DD-214
Apprenticeship: The Heart of the Electrical Trade
Notice of Electrical Apprenticeship Opportunity
Applications for Electrical Apprenticeships will be available at NECA-IBEW , TECHNICAL INSTITUTE,
301E. 8TH STREET, MICHIGAN CITY, IN 46360 : Monday Thru Friday , 8:30 A.M. - 4:30 P.M. Applicants must apply in person .
Application fee is $30.00.
All information concerning applicants must be sent to the Michigan City address within 30 days of application. All applicants must fully meet the following Basic Requirements to be eligible for personal interview.
.

AGE

- Applicants

must

be at least 17 years of age in order to apply. A certified copy of your Birth Certificate and a copy of your valid Drivers License must be provided to the Committee.
EDUCATION

-

Applicants must be a high school graduate, a senior in high school with an official document stating they will be graduating during the current semester or have a GED.

Both

,

high school graduates and those with a

GED

,

must have completed one year of Algebra 1, with at least a

"

C

"

average (for the Inside Wireman Program and one year of Algebra 1, with a passing grade for the Telecommunications and Residential Program. Introduction to Algebra or Pre-Algebra will not be accepted as a substitute.

An

official copy of your high school and post high school transcript , or GED form

30

, is required . The transcript , or

transcripts

must be sent by the school. See Item 5 for

"

TRANSCRIPT EVALUATION

"

.
PHYSICAL CONDITION

-

Applicants must be physically able to perform the work of the trade.
APTITUDE TEST - Applicants must have a qualifying score of

4

,

or

above

,

on the aptitude test . Arrangements for testing will be made by the Committee.
TRANSCRIPT EVALUATION

-

The transcripts must indicate that the applicant has completed one year of Algebra I, or the equivalen

t

, with a (see above in EDUCATION) average. Other subjects to be evaluated are high mathematic

s

, vocational

ed.,

chemistry

, physic

s

, electronics and electricity .
The transcripts must further indicate that the applicant has maintained at least a "C" average in the remaining subjects, other than those mentioned above.
The high school transcripts must also state the number of days you were absent and times you were tardy. This information indicates to the interviewers your attitude toward being at work everyday and being there on time.
Each applicant who meets all of the basic requirements will be interviewed by the Committee. The interviewers will consider: reliability , interest, attitude, judgement , cooperation, as well as other personal traits.
Applicants with active Military Service may provide a copy of their DD-214 to the Committee. Electrical Joint Apprenticeship and Training Committee of Northern Indiana
301 E. gth Street Michigan City, IN 46360 Phone (219) 879-1090
For: LaPorte, Porter, Jasper, Starke and Pulaski Counties Representing
Local 531 - IBEW and Northern Indiana Chapter -National Electrical Contractors Association, Inc.
ELECTRICIAN
The recruitment and selection of applicants shall be without discrimination because of race, color, religion, national origin, age or sex. The Electrical JATC of Northern Indiana does not discriminate on the basis of race, color, religion, national origin, age or sex in
the administration of the apprenticeship program. All rights, privileges, programs and activities within the apprenticeship program are made available to apprentices regardless of their race, color, religion, national origin, age, disability or sex.
Apprentices will be selected in order of their ranking resulting from information obtained prior to and during the interview.
Applicants must pass a pre-employment Drug Test in order to enter the apprenticeship.
The Committee will evaluate all completed applications and notify each applicant of their results.
Terms of Apprenticeship Training
The term of apprenticeship shall consist of a minimum of 8000 hours of on-the-job training and 5 years of related classroom instruction at a minimum of 180 hours per year. The term of apprenticeship shall be divided into a minimum of six periods.
College Degree Program enrollment
The first 2000 hours of on-the-job training and the successful completion of the first year of related classroom instruction, shall constitute the probationary period.
Recommended High School Courses
Algebra I required - Higher mathematics helpful, Chemistry, Physics, Mechanical Drawing, Electricity and Electronics.
Electrical Apprentices Earn While They Learn
They received a stipulated hourly wage, as provided in the collective bargaining agreement, starting at 31% of the Journeyman's hourly wage.
Advancements shall be subject to satisfactory progress in on-the-job training and in related classroom instruction, as determined by the Committee, with the exception of advancement to the second period during the probationary period .
Remember, you are paid only for the time that you are working. There are no paid holidays, sick days or vacation days.
Application for Electrical Apprenticeship will be available:
Monday - Friday 8:00 a.m. - 4:00 p.m. (excludes lunch hour 12-1)
or
Download:

How to Apply.pdf
More Information:
Application