Sick and Disabled Reminder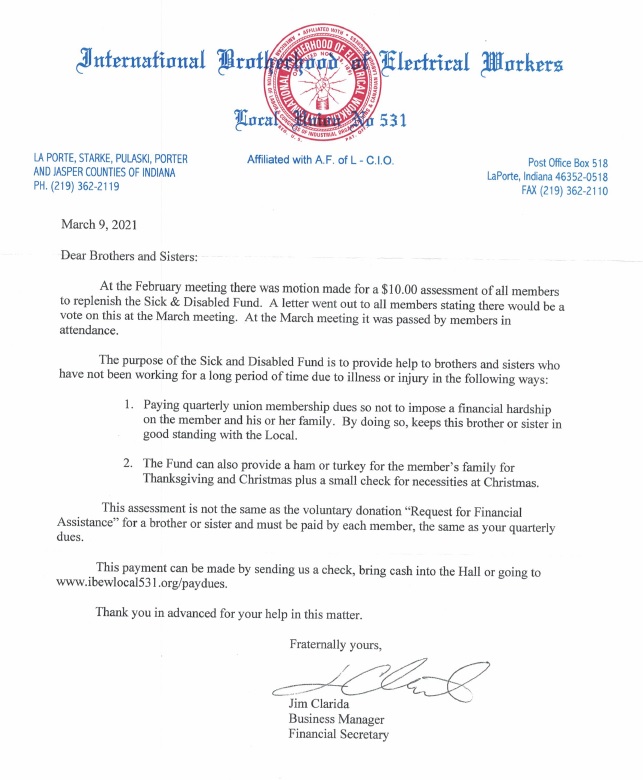 Brothers and Sisters,
This is a reminder that at the March Union meeting, the membership voted for a $10.00 assessment of all members to replenish the Sick & Disabled Fund. This is a one time assessment. The last time we had an assessment was 2007. The purpose of this fund is to provide help to brothers and sisters who have not been working for a long period of time due to illness or injury. As per IBEW Constitution, Article XVIII Sec. 2 and IBEW Local 531 Bylaws Article X Sec.1, all assessments must be paid to protect the member's continuous good standing and benefits. If you are set up to have your quarterly dues automatically withdrawn from your First Trust Credit Union account, this assessment will NOT be taken out. To pay this assessment, you can stop by the hall and pay by cash, check or CC. You can also mail us a check, or, pay online with a CC at www.ibewlocal531.com/paydues. The Sick and Disabled fund has helped numerous members over the years. Please take a moment to pay this assessment so we can continue this proud tradition.
This Friday, 4/2, is also our monthly Union meeting. It will continue to be held at the JATC until social distancing requirements are eased or lifted. It will start promptly at 7 pm. Masks are still required and masks and hand sanitizer will be made available. As you have all heard, the Governor is lifting the mask mandate April 6th. Once this mandate is lifted, we will assess the situation and follow any and all local health department/CDC guidelines. Safety for our membership and our buildings is of the utmost importance for us. As more information becomes available, we will inform the membership of any changes.
See you Friday, or if not, have a great weekend
In Solidarity,
Jim Clarida
Business Manager/Financial Secretary