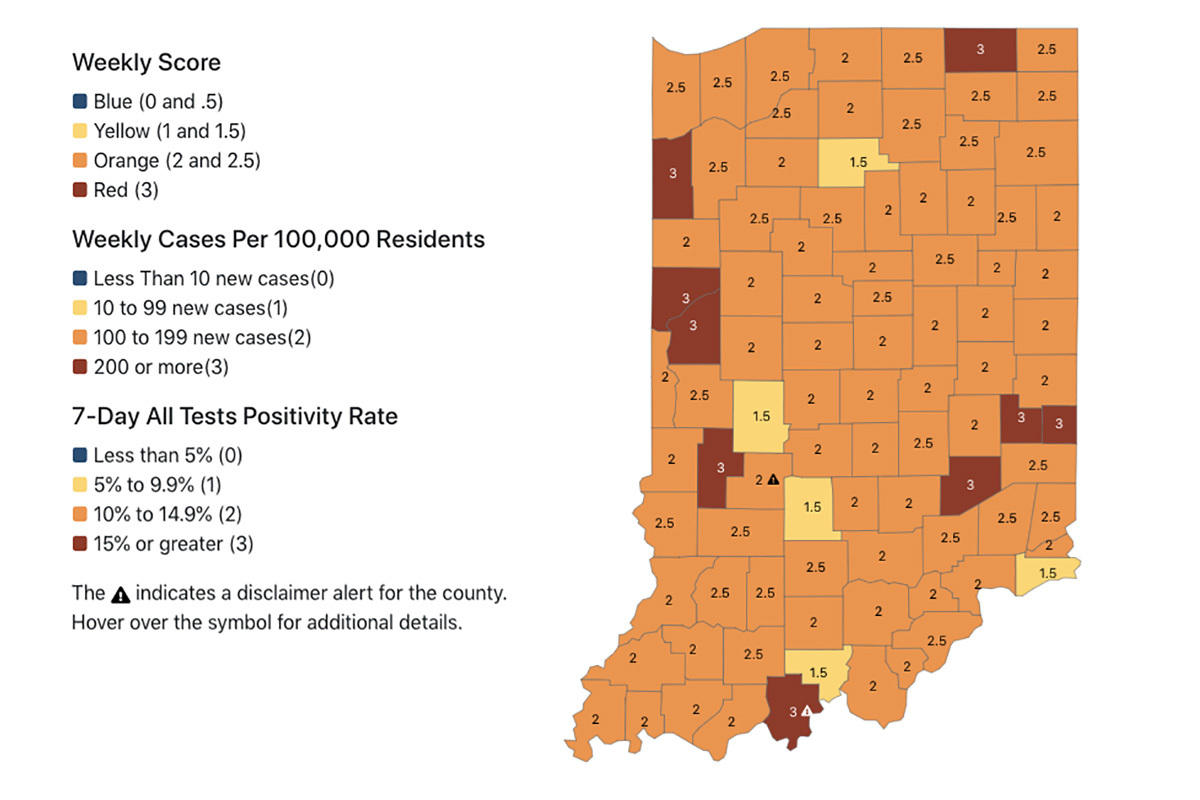 Brothers and Sisters,
As many of you may have heard, on Wednesday Governor Holcomb announced that he is ending stage 5 of the Indiana Back on Track Plan. The Governor does plan on signing a new Executive Order that will place new restrictions on counties depending upon how bad cases of COVID-19 are being reported. See below for an excerpt of yesterdays announcement.
EXCERPT: Indiana Gov. Eric Holcomb announced during his weekly COVID-19 update that Indiana would end Stage 5 of the Back on Track plan this weekend due to surging coronavirus numbers. He'll sign an executive order effective November 15 which will last for at least a month. Instead of doing stages, restrictions will happen on a county-by-county basis.
The state will focus on targeted restrictions for counties currently colored orange and red in the county metrics map. Indiana set a new daily record for new cases on Wednesday with 5,156. The statewide positivity rate, which was 3.9 percent on Sept. 26 now stands at 10.3 percent. Hospitals are seeing on average 210 new coronavirus cases a day.
During the news conference Holcomb said that Stage 5, which took effect on Sept. 26 has been viewed as a reason by many as a reason to go back to what it was like before the pandemic.
All counties in northwest Indiana are orange with Newton County being in the red.
At this time, all of our 5 counties are in the "Orange". Some of these restrictions include, but are not limited to:
Social events limited to 50 people
Special events of more than 50 people will need approval from the local health department.
Attendance at winter indoor K-12 extracurricular and co-curricular events is limited to 25% capacity
Capacity in common areas and break rooms should be reduced and users should be socially distanced
Community recreational sports leagues and tournaments may continue with attendance limited to participants, required personnel and parents/guardians only.
Your IBEW 531 staff was planning on having our December Union Meeting as scheduled where we plan on giving out retiree watches along with bringing in our new class of apprentices. The expected turnout would be around 50 people and due to these new restrictions, we may have to submit a plan to the local health department to see if we can have a gathering of 50 persons. We will notify the membership if something changes.
We are encouraging everyone to please wear a face covering, maintain social distancing and good hygiene. As these cases rise, we all need to be vigilant in helping to stop the spread. As we continue to monitor these situations, we will notify the membership of any changes. Please be safe in all that you do. Have a great weekend!
In Solidarity,
Jim Clarida, Business Manager