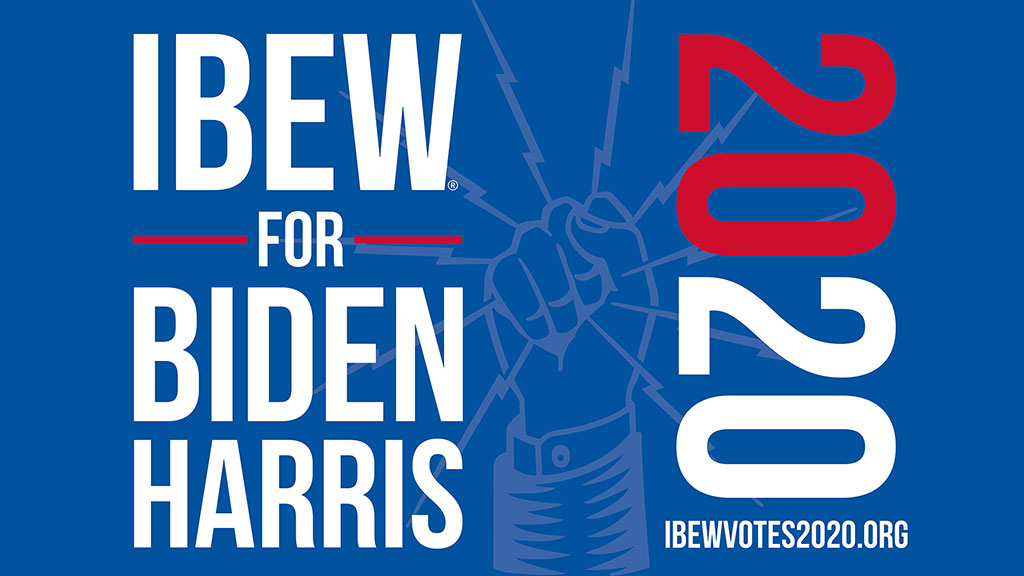 You may be asking why the IBEW supports a Biden/Harris presidency. There are several reasons why the IBEW was one of the first labor organizations to endorse them. Aside from them having a clear public record of supporting and fighting for pro labor policies, here are some examples of why they are the clear choice for Organized Labor:
AFL-CIO gives Biden a lifetime voting rating of 85% and Harris 100% on working family issues
Chose two Union leaders for their transition team, one being IBEW IP Lonnie Stephenson
Both propose a repeal of right-to-work
Harris voted against the anti-labor picks on the current NLRB
Both publicly state the importance of Unions and how they built America
Both explicitly state support for the Protecting the Right to Organize (PRO) Act
Biden's Empower Workers Plan is a comprehensive list of pro-labor policies and protections
PRO-JOBS, PRO-PLAs, PRO-APPRENTICESHIPS, PRO-UNION!!
These are just a few of the many reasons why the IBEW supports Joe Biden for president. The fight for labor rights and good wages is getting harder every day, that is why it is imperative that we have labor friendly politicians from the local level to the federal level. A Biden presidency is a PRO-UNION presidency!!
*Informational Links*
Updated Endorsed Candidate List Click Here
Empower Workers Plan Click Here
Pro-Labor Click Here