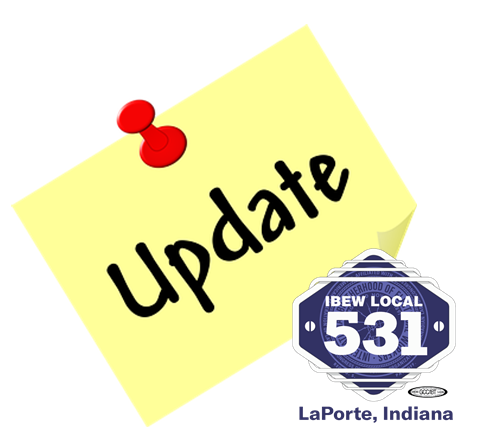 Brothers and Sisters,
I would like to take this opportunity to provide you with some updates on Local 531 Business. As you well know, our election of officers is scheduled to take place on Friday, June 5th, at the hall, from 11 am – 7 pm. Masks, hand sanitizer, wipes and gloves will be available for anyone who wishes to use them. The election judge will also be asking for everyone to follow social distancing guidelines, both inside and outside the building, to ensure the safest environment possible during the election.
Under the Governor's "Back on Track" plan for the reopening of our State, we will be under Stage 3 of that plan until June 14th. At this stage, social gatherings of up to 100 people may take place following the CDC social distancing guidelines. Our hall can only accommodate 29 persons under these guidelines. We cannot, nor would we, ever turn a dues paying member away from their local union meeting. Because of this, and after consulting with the 6th District and your Executive Board, the staff has decided to cancel the June 5th Union Meeting. I will continue to update the website as new information is available for the membership and your Executive Board will continue to meet to ensure the Business of Local 531 is taken care of.
As noted in the most recent Conduit, our July meeting has been moved to July 10th in observance of our Independence Day. This meeting WILL be held in the gym at the JATC located at 301 E. 8th Street in Michigan City. Please enter the South/East door and we will start at the usual time of 7 pm. Our JATC is a community building, therefore we have multiple tenants that occupy the building as well. In order to ensure the least amount of exposure to the building, we will not be providing beverages/pizza and we will ask for no congregating in the building at the conclusion of the meeting. As we move forward, we will utilize the JATC for our Union Meetings until we are able to use our building again.
The local Business Office does remain closed to foot traffic. If you have business that cannot be taken care of via phone or email, please set up an appointment and we WILL accommodate any member who needs to come in. We will be looking at opening the office back up when we can ensure the safety of those who come in along with the Business Office staff. Again, we will accommodate any member that needs to come in, we just ask for you to call ahead. If you are laid off and need to sign Book 1, please send an email to info@ibewlocal531.org stating your name, card #, copy of term slip and a request to be signed to book 1. If you need signed to another local whose office is closed, we can sign you to their Book 2 as well.
As some of you may have heard, IBEW 531 has had it's first positive cases of COVID-19. If you feel any symptoms, been around anyone experiencing symptoms, or just want to be safe, PLEASE get tested. I have personally been tested to ensure the safety of those I'm around along with my family. Testing is free, fast and easy. I have posted information on how and where to get tested in each of our 5 counties in the COVID-19 Resource Board located in the Members Resources tab of the website. Click here to be redirected to this information. Again, getting tested is easy. Click on the link, fill out the questionaire, select a date and time and your done. This process took me about 8 minutes to do. There was no wait when I arrived at the Armory and the test took about 5 minutes. We are being told that results will take 48 - 72 hours.
Regretfully, I must inform you that after much consideration, the Executive Board along with your Picnic Committee, has decided to cancel this year's family picnic. This was not an easy decision. Due to the COVID-19 pandemic, the committee has had a difficult time securing a food vendor as many have been closed or shutdown until just recently. Also, our vendor for the bouncy houses and rock climbing wall are not offering those items for the year 2020. This family event is heavily attended by children and our retirees. Ensuring a safe environment along with social distancing standards for the attendees would be too hard of a task. This event is designed for socializing amongst the membership and if something were to happen to a member or loved one because of our get together, everyone who took part in putting this together would feel terrible. The picnic committe will continue to try and think of other ideas that maybe we can do at a later time. Thank you for your understanding.
After alot of back and forth with NECA, the new wage sheets are now available in the Members Resources tab under "Contracts". At this point, you will be required to login. Remember, your username is always your card # and password is whatever you made it. If you cannot remember your password, call the hall and we have that info available. Wage sheets are also available at the hall. These new rates will take affect June 1, 2020.
As we all head into this Memorial Day weekend, please be safe in all that you do. Let us also remember that Memorial Day is a day we set aside to honor with pride and thanks, for all those who served and died for our country. I wish you all a happy and safe Memorial Day.
In Solidarity,
Jim C.