May meeting cancelled. UPDATE: Stimulus checks, Stay-at-Home order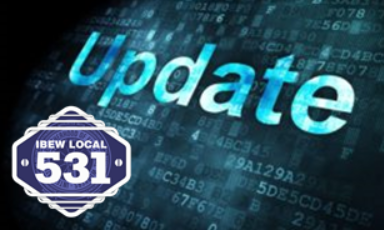 Brothers & Sisters
Yesterday, Governor Holcomb extended the State's stay-at-home order until Friday, May 1st at 11:59 pm. A copy of the Executive Order 20-22 can be found by clicking here or downloading below. The state is starting to look at slowly reopening in stages as hospitals can now conduct diagnostic procedures, and nurseries, greenhouses and pet groomers can also be open. The Governor is consulting with various sectors on plans to reopen additional businesses safely at some point over the next few weeks. States and Regions looking to open back up, will be looking at different criteria and implementing different "Phases" when deciding to do so. The Federal Government has issued a document that will most likely be the "guidelines" for the opening of our country. I would assume that most state, and local governments would folllow these "guidelines" as well. A copy of this document can be found by clicking here or by downloading below.
As some of you know, the Federal Economic Impact Payments (stimulus checks) have begun to be distributed. The IRS has a new Stimulus Check Website where you can:
Check the status of your Economic Impact Payment or "Stimulus Check"

Confirm your payment type such as direct deposit or check

Enter your bank account information for direct deposit if you have yet to receive your payment

Update your bank account or mailing address if it has changed from your 2019 tax return.
A direct link to the IRS website can be found by clicking here. This information has also been added to our Covid-19 Resources Board under "Stimulus Payments"
Your Executive Board has continued to meet as scheduled via Zoom Meetings. These have went very well and we are able to conduct business in an efficient and productive manner. Contractor reporting and Benefit payment posting have not been affected. Pension payments continue to be processed as usual and pension applications have also not been affected. Due to the extension of the Governor's Stay-at-Home order, your Local 531 administration, along with your Executive Board, has decided to cancel the MAY Union Meeting. Proper approval was attained from the 6th district and this will continue to be monitored on a month by month basis. Nominations for officers are usually held during the May Union Meeting. Correspondence went out to every member in regards to this year's nomination and election of officers. If you did not receive this, please call the hall and verify we have your correct mailing address. Information on nominations can be found by clicking here or downloading the document below.
Responses from the recent Wage Survey have been coming in. We have received 185 so far. If you have not done yours yet, please check your email and get this completed. It takes approximately 4 minutes to do. If you did not receive an email, please call the hall to verify that we have your correct email address. We will be collecting these responses in about another week and get the results to NECA and the membership.
Stay safe Brothers and Sisters,
Jim C.
Download: