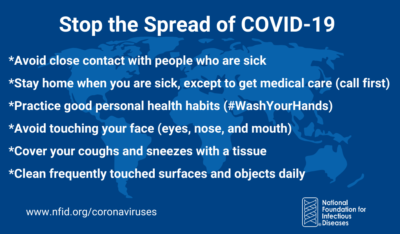 Brothers and Sisters,
I wanted to reach out to you and share some updated information that may be helpful. First, let me say that I hope everyone and their family's are safe and well. Things are a bit upide down right now but we will get thru this. There have been a few calls regarding the Coronavirus and how it is being handled by our Health and Welfare (Decatur). Decatur issued a statement regarding the COVID-19 virus and can be found by clicking here. A downloadable version of the statement can also be found below. Of course, you can always call the hall with any questions as well.
I have also reached out to our fund professionals in regards to the pension as well. They are all working in a limited capacity, but as of right now, they see no disruptions in pension checks being deposited on time to those already receiving pension. In regards to our members who are planning on retiring very soon, they also do not anticipate a problem with processing these applications in a timely manner. We will continue to navigate the pension process in the same manner as usual and adjust as the need arises.
The IBEW Local 531 Business office continues to be open as well. We are here 7 am to 4:30 pm, Monday - Friday. We are asking everyone to call or email any business they need to discuss. Any business that cannot be effectively done in this manner, we are aksing you to call ahead before coming in. We are trying to keep a safe working environment by limiting the amount of persons within the building
Red Cross is having a Blood Drive tomorrow at the Merrillville Donor Center.
Site: Merrillville Donor Center
Address: 791 E. 83rd Ave, Merrillville, IN, 46410
Room Name: Conference Room
Date: Friday, March 20, 2020
Time: 12:00 PM - 6:00: PM
Blood Program Leader Name: Kristine Kaplan
The American Red Cross now faces a severe blood shortage due to an unprecedented number of blood drive cancellations during this coronavirus outbreak. If you are healthy and able, please come out to donate. If you have questions about donating during the COVID-19 global pandemic, please visit www.redcrossblood.org for information on precautions in place for donors.
The need for blood is constant and only volunteer donors can fulfill that need for patients in our community. Nationwide, someone needs a unit of blood every 2 to 3 seconds and most of us will need blood in our lifetime. Click Here to make an Appointment
Thank you for your patience and understanding.
In Solidarity
Jim
Download:

Decatur info on COVID-10.pdf